Issue Papers
The Habitat III Issue Papers are summary documents that addressed research areas, highlighted general findings, and identified research needs on topics related to housing and sustainable urban development. Through its Task Team on Habitat III, the United Nations system collaborated on the preparation of the Issue Papers. These were vital documents in the Habitat III process, having established in-depth review and analysis on specific relevant issues, and ultimately serving as the foundation for the work of the Policy Units.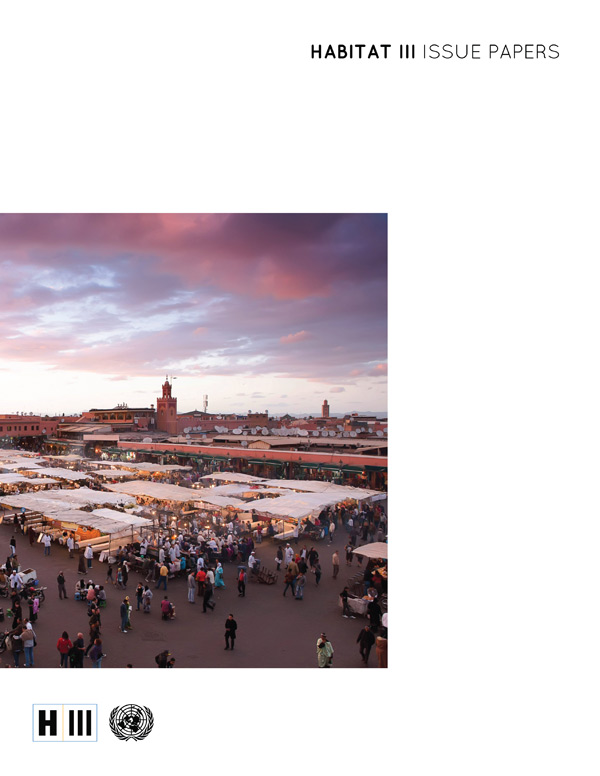 The Issue Papers were considered stocktaking documents highlighting and addressing significant urban issues and general findings by identifying research needs on housing and sustainable urban development. They were led or co-led by the United Nations agencies, funds, and programmes which formed part of the United Nations Task Team for Habitat III. This publication summarizes the process of elaboration and includes the final submitted version of each Habitat III Issue Papers.
Download PDF
The Process
The Habitat III Secretariat collaborated with over 100 United Nations urban experts from 28 different agencies, funds, and programmes through the United Nations Task Team to prepare a series of Issue Papers. This resulted in a compendium of summary documents that provided background and knowledge, key challenges, and recommendations on the most significant urban topics taken into consideration within the Habitat III preparatory process.
A total of 22 Issue Papers were developed, with United Nations agencies serving as lead, co-lead, or contributing agencies in each one. These papers provided in-depth review and analysis of specific issues relevant to the discussions of the Conference and served as the departing point for the work of the Policy Units.
Areas
Issue Papers
Policy Units

1.

Social Cohesion and Equity – Livable Cities

The Right to the City and Cities for All

Socio-Cultural Urban Framework

2.

Urban Frameworks

Urban Rules and Legislation

Urban Governance

Municipal Finance

National Urban Policies

Urban Governance, Capacity and Institutional Development

Municipal Finance and Local Fiscal System

3.

Spatial Development

Urban Spatial Strategies: Land Market and Segregation

4.

Urban Economy

Local Economic Development

Jobs and Livelihoods

Informal Sector

Urban Economic Development Strategies

5.

Urban Ecology and Environment

Urban Resilience

Urban Ecosystems and Resource Management

Cities and Climate Change and
Disaster Risk Management

Urban Ecology and Resilience

6.

Urban Housing and Basic Services

Urban Services and Technology

Housing Policies
---
Methodology
The Issue Papers were prepared by the UN agencies and programmes (UN Task Team on Habitat III), as well as several experts and organizations related to the different topics.
The methodology of elaboration of the Issue Papers was in line with the elaboration of the compendium of issues briefs prepared by
the United Nations inter-agency Technical Support Team for the United Nations General Assembly Open Working Group on Sustainable Development Goals.
The Issue Papers provide with a background on each area analyzed, key challenges and recommendations on next steps.
---
Comments from Member States on Issue Papers
Comments by Stakeholders on Issue Papers