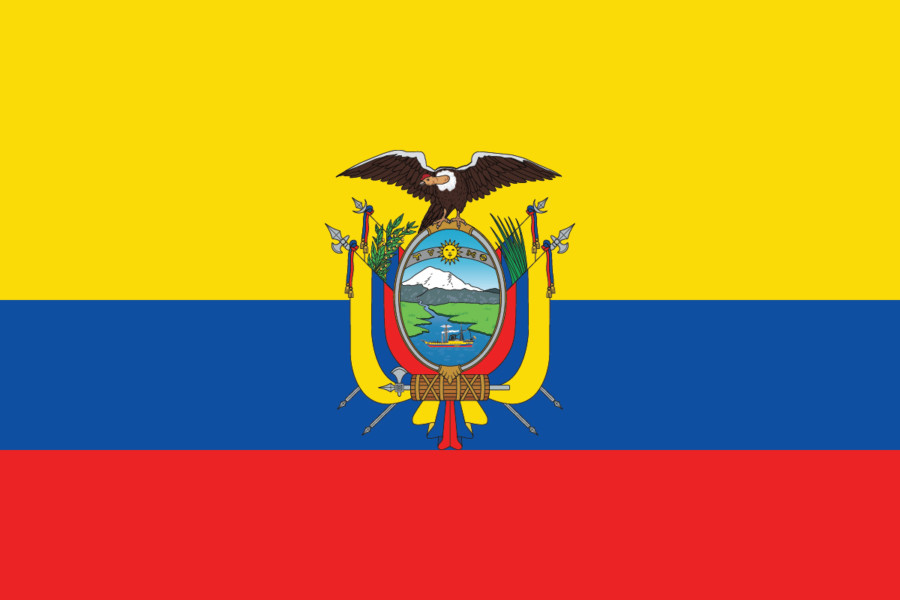 Ecuador
| | | | |
| --- | --- | --- | --- |
| | Value | Year | |
| Surface area (sq km) | 257217 | 2014 | |
| Population (proj., 000) | 16386 | 2016 | |
| Pop. density (per sq km) | 66.0 | 2016 | |
| Capital city | Quito | 2015 | |
| Capital city pop. (000) | 1726 | 2015 | |
| Population growth rate (average annual %) | 1.6 | 2010-2015 | |
| Urban population growth rate (average annual %) | 1.9 | 2010-2015 | |
| CO2 emission estimates (000 tons/tons per capita) | 43527/2.8 | 2013 | |
| Population using improved drinking water sources (urban/rural, %) | 93.4/75.5 | 2015 | |
| Population using improved sanitation facilities (urban/rural, %) | 87.0/80.7 | 2015 | |
UN Data, a statistical data service of the United Nations
| | | | |
| --- | --- | --- | --- |
| | 1995 | 2005 | 2014/2015 |
| Urban population ('000) | 6,537 | 8,502 | 10,343 |
| Level of urbanization (%) | 57.8 | 61.7 | 63.7 |
| Proportion of urban population living in slum areas (%) | ... | 21.5 | 36.0 |
| Urban Slum Population ('000) | ... | 1,786 | 3,655 |
---
| | | |
| --- | --- | --- |
| | Value | Year |
| Urban Gini Coefficient | 0.49 | 2010i |
| Urban poverty headcount ratio based on national poverty lines | 16.4% | 2014 |
UN-Habitat World Cities Report 2016
National Report Executive Summary:
Al 2010, el Ecuador cuenta con una población total de 14'483.499 habitantes, de los cuales el 62,7% vive en ciudades y según proyecciones del INEC aumentará a 64% en el 2020. Con ello, el Ecuador se habrá transformado en un país predominantemente urbano invirtiendo la distribución entre la población urbana y rural, ya que en 1970 esta era de 39,5% y 60,5% respectivamente. Esta transición "generó un desarrollo urbano desordenado, sin planificación, regulación, ni control, con carencias en las prestaciones de servicios básicos y con profundas inequidades territoriales (parroquias de extrema riqueza junto a parroquias de extrema pobreza) (SENPLADES, 2013a, p. 142)". El modelo de desarrollo urbano no ha sido sustentable en términos económicos, sociales y ambientales y ha generado ciudades inequitativas y excluyentes, con un mercado de suelo con fuertes tendencias especulativas, resultado de la poca capacidad de los municipios de regular, gestionar y planificar el suelo de los cantones, y de la poca articulación entre los distintos actores que intervienen en el territorio.
Un proceso de urbanización de estas características, por lo general, genera trastornos socio-espaciales con serios efectos en la población y en el territorio, que se pueden resumir como:
El limitado acceso a suelo para equipamientos, espacio público y vivienda para los sectores de menores ingresos, relacionado con la concentración de la propiedad y los procesos especulativos;
La segregación espacial urbana, agravada con el fenómeno de los barrios cerrados exclusivos y el crecimiento pensado desde el transporte individual motorizado, dejando de lado a los peatones y las dinámicas sociales y culturales que generan calidad de vida urbana;
La afectación de los cinturones de reserva ecológica, de los suelos de vocación agrícola, u otras áreas cuyas características no necesariamente sincronizan con la implantación de infraestructura;
La proliferación de asentamientos en zonas de riesgos y persistencia del mercado informal, causados tanto por la ya mencionada escasez de suelo asequible, la falta de control, y la falta de reglamentación y normativa urbana clara y apropiada;
La promoción de estructuras urbanas ineficientes y disfuncionales con bajos niveles de densidad y por lo tanto, dificultades de asegurar dotaciones adecuadas de servicios urbanos.
Urban housing indicators
People living in slums (%)
Urban population with access to adequate housing (%)
Basic services and infrastructure
Urban population with access to safe drinking water (%)
Urban population with access to adequate sanitation (%)
Urban population with access to regular waste collection (%)
Urban population with access to clean domestic energy (%)
Level of effective decentralization
Policies and legislation on urban issues that local governments contributed to formulating since 1996 (%)
Share of both income and expenditure allocated to local governments from the national budget (%)
Share of local authorities' expenditure financed from local revenue (%)
At the Habitat III Conference:

Networking Events

Programme

Networking Events

Programme

More events:

Urban Breakfasts

Quito - Ecuador

Urban Breakfasts

Quito - Ecuador

Urban Breakfasts

Quito - Ecuador

Urban Breakfasts

Quito - Ecuador

Urban Journalism Academy

Cuenca - Ecuador
We thank Government and people of Ecuador for hosting the Habiat III Thematic Meeting in Cuenca, the Habitat III Conference itself, for their vision and guidance as Co-chairs of the Bureau of the Preparatory Committee, as well as for their generous contribution to the Habitat III Trust Fund. This allowed Habitat III to be among one of the most inclusive and participatory conferences in the past years. We also thank you for joining the Quito Implementation Plan platform, committing to the implementation of the New Urban Agenda.