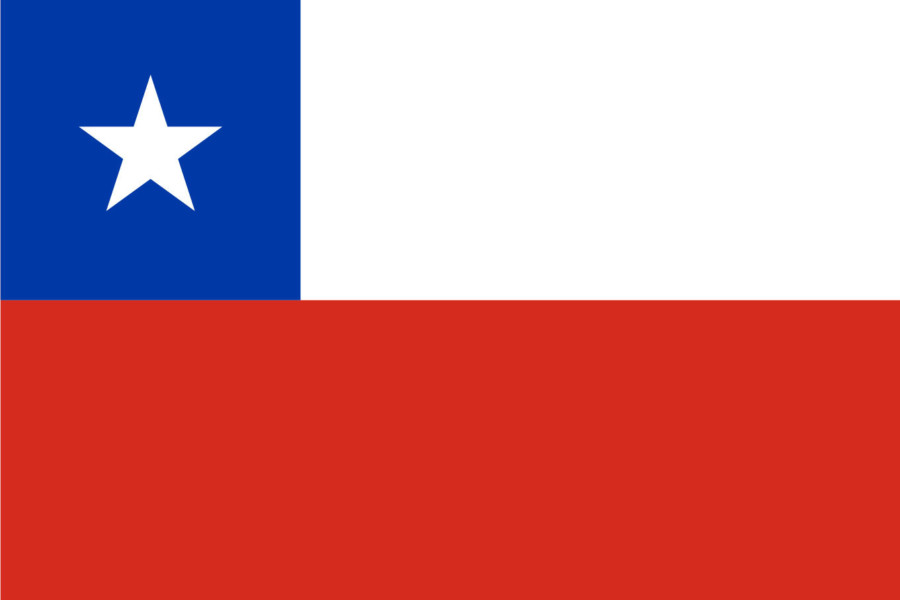 Chile
| | | | |
| --- | --- | --- | --- |
| | Value | Year | |
| Surface area (sq km) | 756102 | 2014 | |
| Population (proj., 000) | 18132 | 2016 | |
| Pop. density (per sq km) | 24.4 | 2016 | |
| Capital city | Santiago | 2015 | |
| Capital city pop. (000) | 6507 | 2015 | |
| Population growth rate (average annual %) | 1.1 | 2010-2015 | |
| Urban population growth rate (average annual %) | 1.1 | 2010-2015 | |
| CO2 emission estimates (000 tons/tons per capita) | 83171/4.7 | 2013 | |
| Population using improved drinking water sources (urban/rural, %) | 99.7/93.3 | 2015 | |
| Population using improved sanitation facilities (urban/rural, %) | 100.0/90.9 | 2015 | |
UN Data, a statistical data service of the United Nations
| | | | |
| --- | --- | --- | --- |
| | 1995 | 2005 | 2014/2015 |
| Urban population ('000) | 12,208 | 14,286 | 16,047 |
| Level of urbanization (%) | 84.5 | 87.4 | 89.5 |
| Proportion of urban population living in slum areas (%) | ... | 9.0 | 9.0 |
| Urban Slum Population ('000) | ... | 1,285 | 1,429 |
---
| | | |
| --- | --- | --- |
| | Value | Year |
| Urban Gini Coefficient | 0.52 | 2009i |
| Urban poverty headcount ratio based on national poverty lines | 12.4% | 2013 |
UN-Habitat World Cities Report 2016
National Report Executive Summary:
Naciones Unidas ha convocado a una Tercera Conferencia sobre la Vivienda y el Desarrollo Urbano Sostenible (Hábitat III), que se inserta en un ciclo bi-decenal que se inició en 1976, en Vancouver y continuó con la Conferencia Habitat II que se desarrolló en Estambul en 1996.
Como parte de la preparación de esta tercera conferencia, se ha solicitado a los estados miembros de Naciones Unidas la elaboración de informes que permitan conocer el desarrollo de los compromisos que formaron parte de Habitat II en el período transcurrido desde 1996.  
Este informe considera la implementación de la Agenda de Habitat II y otros compromisos y objetivos derivados de acuerdos internacionales, como también los nuevos desafíos que emanan de las tendencias emergentes y de la actual preocupación por lograr un desarrollo sustentable de los asentamientos humanos. 
Asimismo expone, la evolución y principales fenómenos  urbanos del país  abarcando un período de casi veinte años. Da cuenta de logros y desafíos para establecer escenarios para el desarrollo urbano sustentable de los próximos años, que incorporen en las políticas públicas las demandas de las personas que habitan nuestras ciudades. 
Fue elaborado por el Ministerio de Vivienda y Urbanismo, con consulta y participación de los Ministerios que componen la Comisión Interministerial de Ciudad, Vivienda y Territorio, el Consejo Nacional de Desarrollo Urbano, donde están representadas universidades, organizaciones gremiales y de la sociedad civil, así como con el aporte de los Foros Urbanos realizados en las ciudades de Santiago, Antofagasta y Concepción, además del foro con la Sociedad Civil organizado por el Consejo Nacional de Desarrollo Urbano.
Urban housing indicators
People living in slums (%)
Urban population with access to adequate housing (%)
Basic services and infrastructure
Urban population with access to safe drinking water (%)
Urban population with access to adequate sanitation (%)
Urban population with access to regular waste collection (%)
At the Habitat III Conference:

Networking Events

Programme
We recognize the active participation of Chile in the Bureau of the Preparatory Committee and thank them for the guidance in the Habitat III preparatory process.