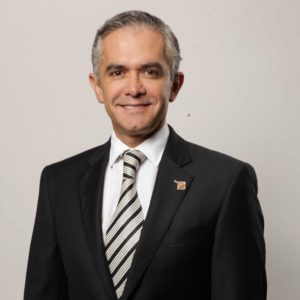 Miguel Ángel Mancera
Mayor Of Mexico City
Mexico City
Mexico
Mr. Mancera holds the position of Mayor of Mexico City since December 5th, 2012, for which he was elected with the highest vote registered in the history of the City.
During his administration, he has promoted sustainable development, mobility; revitalization of public spaces, and the fight against climate change as a priority of government. In 2013 he launched the first Mobility Program of Mexico City; focus on moving people, not just cars, in a scheme that gives priority to pedestrians, cyclists and public transport.
In 2014 Mayor Mancera launched the Mexico City's Climate Action Program 2014-2020, which aims to mitigate 10 million Tons of CO2Eq and to reduce the vulnerability of 5.6 million inhabitants that are exposed to the impacts of climate change in the City.
In 2015, unther the leadership of Mayor Mancera, Mexico City joined the Compact of Mayors and in the same year the City was recognized as the first city worldwide to meet all the commitments of the Compact with the highest level: BASIC+
Mancera Espinosa holds a PhD in Law by the National Autonomous University of Mexico (UNAM) where he received the Alfonso Caso Medal, awarded to the best students of UNAM.