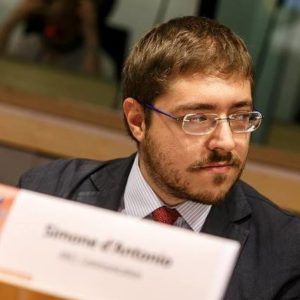 Simone d'Antonio
Urban Journalism Academy
Simone d'Antonio is an Italian journalist based in Rome, where he works for the Italian Association of Cities and Municipalities. He collaborated with the Habitat III Secretariat in the organization of Urban Journalism Academies in the framework of thematic and regional meetings (among these Barcelona, Pretoria, Surabaya, Brussels, Abu Dhabi, Prague, Bucharest) and took part to them as speaker and moderator.
Specialized on urban topics, d'Antonio is regular contributor to many national and international media: his articles have appeared, among the others, in The Good Life, Il Sole 24 Ore, Citiscope, Citylab, Il Manifesto, La Repubblica, Huffington Post and Wired.
As journalist and communicator, he spent most of his professional career to promote successful experiences of sustainable urban development and to foster the exchange of practices and approaches among European cities. Between 2006 and 2010 he worked in Brussels as communication and policy officer in charge of the Working group on Environment, Urban Mobility and Energy for the European foundation of Cities Anci Ideali.
At European level d'Antonio is active in the promotion of many EU co-funded projects and programs, such as URBACT as responsible of the activities of the National Point for Italy. As Ad-Hoc Expert on governance and integrated urban development and of the URBACT Program, he is supporting Italian and European cities in the realization of projects promoting sustainable urban development.