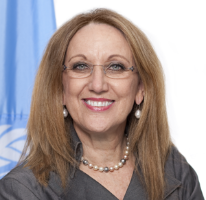 Rebeca Grynspan
IBERO-AMERICAN SECRETARY GENERAL
IBERO-AMERICAN GENERAL SECRETARIAT
Costa Rica
Rebeca Grynspan, Ibero-American Secretary General

The Costa Rican Rebeca Grynspan was unanimously elected Ibero-American Secretary General in the Extraordinary Meeting of Foreign Ministers held on February 24, 2014 in Mexico City, in which were representatives of the 22 countries that make up the American Conference.

Rebeca Grynspan was born in San José, Costa Rica, on December 14, 1955, and prior to this appointment she was Deputy Secretary General of the United Nations and Associate Administrator of the United Nations Development Program (UNDP) since February 2010. As a recognized leader in promoting human development, has greatly helped to focus the attention of the world and Latin America on issues as important as the reduction of inequality and poverty, gender equity, South-South cooperation as instrument for development and the achievement of the Millennium Development Goals, among others.

Previously, from 2006 to 2010, she was Deputy Secretary General of the UN and Regional Director for Latin America and the Caribbean of UNDP. Before joining the United Nations, she served as Vice President of Costa Rica from 1994 to 1998. She was also Minister of Housing, Minister Coordinator of Economic and Social Affairs of her country and Deputy Minister of Finance; also, she was member of the High Level Panel on Financing for Development convened by the UN Secretary General Kofi Annan in 2001.

Grynspan is a member of Global Council on Poverty and Sustainable Development at the World Economic Forum, among others.

In addition to her experience as a lecturer and consultant for many international organizations and institutions, Rebeca Grynspan has contributed to key UN initiatives such as the Millennium Project on Poverty and Economic Development, and the High-Level Panel on Financing for Development.

She was also delegate to the United Nations Commission for the Reconstruction of Haiti, a group composed of representatives of the Haitian government, the U.S. President Bill Clinton and other relevant international members.

Rebeca Grynspan is author and coauthor of numerous articles and books on economic and social policy, gender and poverty. She is an advocate of human development, social cohesion and the fight against inequality, against any kind of discrimination and for rights of women.

Rebeca Grynspan has been named, from June 2014, President of the Board of IIED, International Institute for Environment and Development. IIED is one of the most influential organizations in policy research in the world, working at the interface between development and the environment.

The Ibero-American Secretary General took office from April 1, 2014.