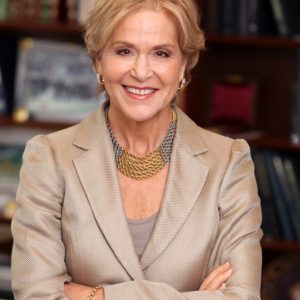 Judith Rodin
President
The Rockefeller Foundation
United States of America
Judith Rodin is president of The Rockefeller Foundation, one of the world's leading philanthropic organizations. She is the first woman to head The Rockefeller Foundation, a position she has held since 2005. She was previously president of the University of Pennsylvania and the provost of Yale University.
Dr. Rodin has recalibrated the Rockefeller Foundation's goals to create and scale innovative solutions to 21st century problems. The Rockefeller Foundation today supports work that promotes more inclusive economies and has invested more than a half-billion dollars to strengthen the resilience of communities of all kinds to social, economic and physical challenges.
A pioneer and innovator throughout her career, Dr. Rodin was the first woman named to lead an Ivy League Institution. A research psychologist by training, she was one of the pioneers of the behavioral medicine and health psychology movements.
Dr. Rodin is the author of more than 250 academic articles, has written or co-written 15 books, including her two most recent, The Power of Impact Investing and The Resilience Dividend: Being Strong in a World Where Things Go Wrong and has received 19 honorary doctorate degrees.
Dr. Rodin serves as a member of the board for several leading corporations and nonprofits including Citigroup, Laureate Education, Inc., and Comcast. She is a graduate of the University of Pennsylvania and earned her Ph.D. in Psychology from Columbia University.