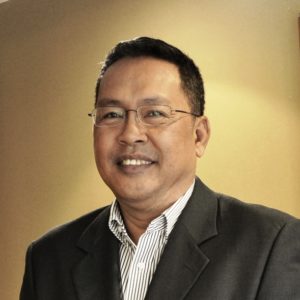 Charlie Ayco
MANAGING DIRECTOR & CEO
HABITAT FOR HUMANITY PHILIPPINES
Charlie Ayco was formerly an Associate Professor at the Ateneo de Manila University where he was teaching until the mid 80s. When the Marcos regime was toppled in 1986, he joined politics and became a Mayor of his hometown in Sevilla, Bohol, Philippines from 1986-1992.

After the Jimmy Carter Work Project in 1999, he joined the national staff of Habitat for Humanity Philippines as its COO. In 2004, he became the Director of Regional Programs (East Asia and Pacific) and in 2007 he was appointed as the Director of Program Development and Support (Asia Pacific). He also led the Habitat team to organize the past three sessions of the Asia Pacific Housing Forum held in Singapore (2007), Manila (2009) and Bangkok (2011).

In November 2011, he was assigned to lead the Habitat for Humanity Philippines where he is now the Managing Director and CEO. He actively supported the National Summit on Housing and Urban Development (2015-2016) organized by the joint committee on housing of the Congress of the Philippines by acting as the facilitator of the technical working group on Housing Finance.

Charlie Ayco holds the following academic degrees: AB Philosophy Cum Laude (Immaculate Heart of Mary Seminary); MA Theology and Ph.D. (candidate) in Social Psychology (Ateneo de Manila University); Master in Development Management (with Distinction) from the Asian Institute of Management.