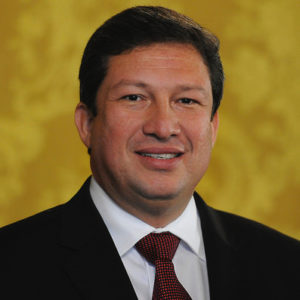 Cesar Navas Vera
Ministro Coordinador De Seguridad
Cesar Navas Vera was born in Guayaquiil – Ecuador in 1974.

He has a Master's degree in Economics with a minor in Finance and Corporate Projects from the University of Guayaquil. He has also postgraduate degrees in "Local Crime Prevention" from the University of Chile; "International Relations" from the University of Viña del Mar; and "Higher Education Teaching" from the Maritime University of Chile.
He received a bachelor's degree in Naval Science from the Ecuadorian Naval Academy and in Naval Electronics Engineering, specialized in weapon systems from the Polytechnic Naval Academy of Chile.

Mr. Cesar Navas was a Naval Officer from 1996 to 2012. Since 2011 he was the National Security Projects Leader, where he developed the first Ecuadorian integrated model for emergencies assistance, which was later inaugurated as the Integrated Security Service - ECU 911, and appointed as its National Director. During this period he was able to bring the 911 service nationwide with the implementation of 16 operating centers, covering totally the Ecuadorian territory.
Since September 2014, he took up his role as the Coordinating Minister for Security of Ecuador, heading this strategic cluster that includes National Defense, Interior, Justice, Foreign Affairs, Risk Management, and ECU 911.