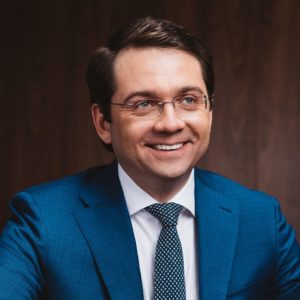 Andrey Chibis
Deputy Minister
Ministry Of Construction Housing And Utilities Of The Russian Federation
Born March 19, 1979 in Cheboksary, Republic of Chuvashiya.
Studied law at the Moscow Institute of Consumer Cooperation
Started his political career in 2005 as governor advisor in Ryazan Area and then became a head of the Expert Department of the Administration of the President of Chuvashia.
2006 – 2007: Deputy Director of the Construction Department, head of the support unit at the Affordable Housing National Project of the Ministry of Regional Development of Russia. Mr. Chibis was responsible for the implementation of the project Affordable and Comfortable Housing.
2007 – 2008: Head of the Directorate for the Development of Affordable Housing Market of the Federal Agency for Construction and Utility Services.
2008 – 2011: Chair of the Board of Directors and member of the Managing Board, Director for Legal and Corporate Affairs at Russian Utility Systems OJSC. In this position, Mr. Chibis supervised efforts to improve the quality of utility services and attract private investments to the utilities sector as well as efforts to improve utility institutions.
Since July 2009: Vice President of the National Union of Water Utilities.
Since October 2011: Executive Director of the Non-profit Partnership for the Promotion of the Development of the Utilities Sector 'Development'.
Since August 2012: Member of the expert council of the Russian government.
Since September 2012: Head of a work group for the development of the utilities sector and the expert council of the Russian government.
Since November 2013: Deputy Minister of construction, housing and utilities of the Russian Federation.
Since October, 2014: Appointed as a chief state housing inspector of Russia, received a commendation from the Russian government for outstanding service and achievements.
Since December 15, 2015: Elected as a Member of the Bureau of the UNECE Committee on Housing and Land Management (re-elected on 2016)
3rd class state councillor.