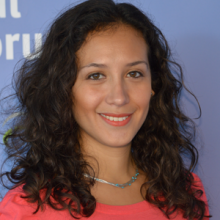 Aimée Aguilar Jaber
Economist
International Transport Forum At The OECD
Mexico
Aimée Aguilar Jaber works as an Economist at the International Transport Forum at the OECD. She studied Economics in the Centro de Investigación y Docencia Económicas (CIDE) in Mexico City and holds a Master degree in International Political Economy from the University of Warwick in the U.K. She studied a "maitrise" in Sustainable Development in the Université Paris-Dauphine in France.
Aimée's work is focused on urban transport. She currently works in the Research and Policy Analysis Unit of the ITF developing international research projects focused on improving coordination of transport, urban development and housing policy, with the aim of improving accessibility and reaching social inclusion, environmental sustainability and economic development goals. As part of the ITF she has also participated in the development of the "Transport Outlook", analyzing regional and global passenger transport trends. As part of this work she led the development of urban mobility scenarios for different regions and the analysis of the environmental and health impacts of different urban transport policies.
During her career at the OECD she has also worked in the Urban Unit of the Regional Development Policy Division in the OECD Governance Directorate. Before joining the OECD Aimée worked at EMBARQ Mexico.