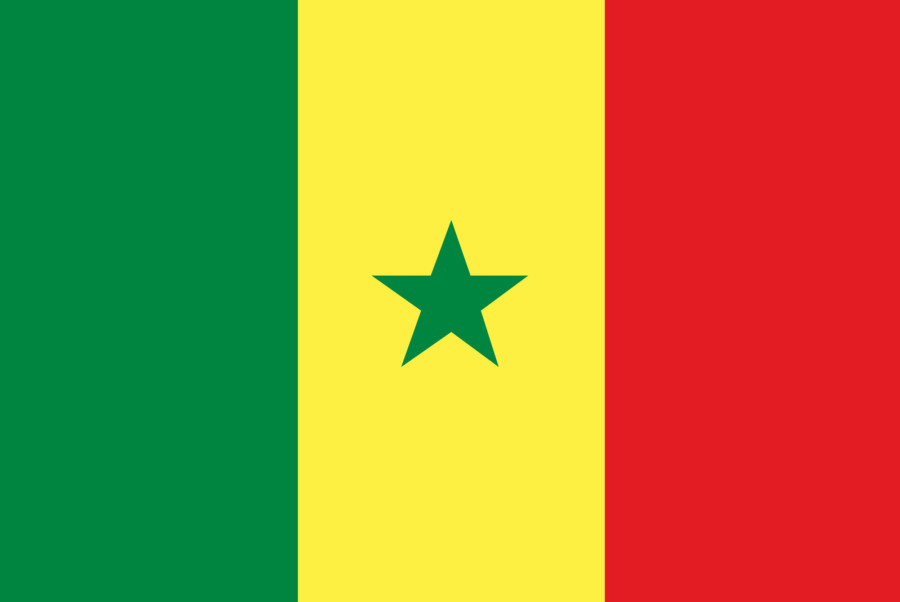 Senegal
| | | | |
| --- | --- | --- | --- |
| | Value | Year | |
| Surface area (sq km) | 196712 | 2014 | Surface area is based on the 2002 population and housing census. |
| Population (proj., 000) | 15590 | 2016 | |
| Pop. density (per sq km) | 81.0 | 2016 | |
| Capital city | Dakar | 2015 | |
| Capital city pop. (000) | 3520 | 2015 | |
| Population growth rate (average annual %) | 3.1 | 2010-2015 | |
| Urban population growth rate (average annual %) | 3.6 | 2010-2015 | |
| CO2 emission estimates (000 tons/tons per capita) | 8423/0.6 | 2013 | |
| Population using improved drinking water sources (urban/rural, %) | 92.9/67.3 | 2015 | |
| Population using improved sanitation facilities (urban/rural, %) | 65.4/33.8 | 2015 | |
UN Data, a statistical data service of the United Nations
| | | | |
| --- | --- | --- | --- |
| | 1995 | 2005 | 2014/2015 |
| Urban population ('000) | 3,452 | 4,634 | 6,544 |
| Level of urbanization (%) | 39.6 | 41.1 | 43.7 |
| Proportion of urban population living in slum areas (%) | 59.8 | 43.3 | 39.4 |
| Urban Slum Population ('000) | 2,051 | 2,010 | 2,487 |
---
| | | |
| --- | --- | --- |
| | Value | Year |
| Urban poverty headcount ratio based on national poverty lines | 33.1% | 2010 |
UN-Habitat World Cities Report 2016
National Report Executive Summary:
La population du Sénégal a connu une croissance rapide passant de 4.997.885 habitants en 1976 à 13.508.715 en 2013. Le taux d'accroissement démographique stable de 1976 à 1988, a connu une légère baisse entre 1988 et 2002, liée à une baisse significative de la natalité et au solde migratoire international négatif pendant cette période, faisant du Sénégal plus un pays de départ que d'arrivée. Entre 2002 et 2013 la fécondité reste élevée, même si elle continue de baisser à un rythme assez faible. Cette baisse du niveau de fécondité est plus soutenue en milieu urbain que dans les zones rurales.
Le taux d'urbanisation est passé de 34,0% en 1976 à 45,2% en 2013, avant l'entrée en vigueur de l'acte III de la décentralisation qui a consacré la communalisation intégrale.
Entre 1976 et 2013, le rapport de dépendance démographique qui reflète la charge qui pèse sur la population potentiellement active a évolué de façon irrégulière (100 actifs pour 89 inactifs En 1976, 100 actifs pour 103 inactifs en 1988 et 93 inactifs pour 84 actifs en 2013). Ainsi, on est passé d'une situation de dividende démographique négative à une situation positive entre la population potentiellement active et celle potentiellement inactive de 1988 à 2013. Cependant, en milieu urbain le rapport de dépendance démographique s'est inscrit sur une tendance haussière de 1988 à 2013. Cela signifie que la charge des actifs vivant en milieu urbain s'est accrue durant cette période avec l'augmentation du nombre d'inactifs.
L'âge moyen de la population du Sénégal révèle sa jeunesse quel que soit le milieu de résidence (urbain ou rural). La moitié de la population est âgée de moins de 20 ans. On note un relèvement de l'âge médian surtout en milieu urbain, puisqu'il passe de 17 à 21 ans entre 1988 et 2013.
La densité de la population du Sénégal est de 69 habitants au kilomètre carré. Cependant, elle varie très sensiblement d'une région à une autre. En effet, des fortes densités observées dans les régions de Dakar, Diourbel, Thiès, Kaolack et Fatick s'opposent aux faibles densités de population des régions de Kédougou, Tambacounda et Matam.
La population âgée de moins de 15 ans (de 43,2% à 42,1% entre 1976 et 2013) a connu une baisse plus accentuée en milieu urbain (de 45% à 36%) entre 1988 et 2013. Ceci est lié aux efforts enregistrés dans la planification familiale et à l'émancipation des femmes plus instruites et plus actives La population de 15-59 ans représente un peu plus de la moitié des effectifs tandis que la proportion des personnes âgées de 60 ans et plus a augmenté corrélativement à l'amélioration de l'espérance de vie.
La croissance de la population urbaine s'est légèrement ralentie ces dernières années. En effet, le taux d'accroissement annuel moyen entre 1988 et 2002 soit 0,14 % est plus faible que le taux observé entre 1976 et 1988estimé à 0,42%. Cependant, entre 2002 et 2013 le niveau d'urbanisation a connu une reprise avec un taux moyen annuel de 0,38%, due au développement d'un réseau dynamique de villes secondaires comme Touba, Mbour, Richard- Toll.
En considérant la progression (linéaire) moyenne du niveau d'urbanisation selon les tendances passées, le taux d'urbanisation connaitra à partir de l'année 2013 les évolutions ci-après:
La croissance démographique rapide et l'étalement urbain qui en découle accentuent les besoins en logements décents, en transports et en services urbains de base.
L'urbanisation s'est développée sous les effets combinés de la croissance naturelle de la population et de la migration. Elle s'est traduite souvent par l'installation des populations dans des zones périphériques non loties, dépourvues d'équipements et d'infrastructures de base.
Depuis 2000, l'Etat a mis en œuvre plusieurs programmes et stratégies censés apporter une réponse à cette urbanisation peu planifiée:
- accélération de l'élaboration des documents cadre de planification urbain;

- restructuration et la régularisation foncière des quartiers non lotis;
- réalisation de programme de zones d'aménagement concerté;
- production à grande échelle de logements et de parcelles viabilisées;
- mise en œuvre d'un programme décennal de lutte contre les inondations;
- développement d'un programme national d'aménagement et de restructuration des zones d'inondation;
- mise en œuvre d'une stratégie de promotion de nouveaux pôles urbains avec les expériences pilotes en cours à Diamniadio et Daga-Kholpa.
A cela s'ajoute au niveau institutionnel et réglementaire le renforcement de la surveillance et du contrôle de l'occupation du sol, avec notamment la création de la Direction de la Surveillance et du Contrôle de l'Occupation du Sol (DSCOS) et de l'Inspection Générale des Bâtiments (IGB).
Urban housing indicators
People living in slums (%)
Basic services and infrastructure
Urban population with access to safe drinking water (%)
Urban population with access to adequate sanitation (%)
We extend our gratitude to Senegal for their engagement in the Habitat III process, especially for their guidance as a member of the Bureau of the Preparatory Committee.