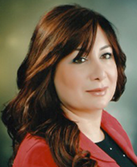 Nesreen Barwari
Associate Professor
University Of Duhok
Iraq
Dr. Nesreen Barwari works across the private, public, non-profit, and academic sectors to promote conflict management and coexistence through education in Iraqi Kurdistan. She is an Associate Professor of Planning and Governance. She serves as a planning steering committee member of duhok governorate and country representative of FWE NGO which focuses on providing humanitarian assistance to the influx of Iraqi displaced and Syrian refugees into Iraqi Kurdistan.
Prior to April 2003, Ms. Barwari was minister of reconstruction and development in the Kurdistan Regional Government and after 2003 became the only women minister at the Iraq first government after the overthrow of Saddam's regime.
Dr. Barwari holds a bachelor's degree in architectural engineering and urban planning from the University of Baghdad, a master's degree in public policy and management from Harvard's John F. Kennedy School of Government, and is a Ph.D. In Spatial Planning holder with focus on community and regional planning and postwar reconstruction and development from University of Dortmund.