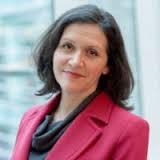 Lenora Suki
Founder; Smart Cities Advisor And Head; Product Strategy; Sustainable Finance
Bloomberg LP
United States of America
Lenora Suki, CFA, CAIA, LEED AP, is the founder of Smart Cities Advisors and the DevelopingSmartCities.org platform. In her day job, she is Head of Sustainable Finance Product Strategy in Bloomberg's Sustainable Business and Finance Group.
Lenora's focus is on leveraging business, finance and investment to advance development, sustainability and impact, extending across asset classes from public to private markets. Her current effort for Smart Cities Advisors is the DevelopingSmartCities.org platform, which aims to build visibility and leadership for enterprises and investments in sustainable, inclusive cities in emerging and developing markets.
At Bloomberg, she manages projects in public equity and debt, real estate, and private equity, as well as initiatives at the intersection of philanthropy and product strategy, such as green and social bonds, impact investment and data science applications.
Prior to Smart Cities Advisors, she worked at the Earth Institute at Columbia University as an Associate Director advising on sustainable development with a focus on remittances and the Millennium Development Goals.
Prior to Columbia, Lenora was regional fixed income strategist at Santander Investment and emerging markets analyst at OFFITBANK, now Wells Fargo. Lenora also worked at the World Bank in the Treasury, Europe and Central Asia and in private sector development.
Lenora earned an MBA from the MIT Sloan School of Management, a BA in Government from Pomona College and a BA in economics from the University of Houston. She serves on the board of the Jessie Smith Noyes Foundation. She also holds the CFA, CAIA and LEED AP designations.