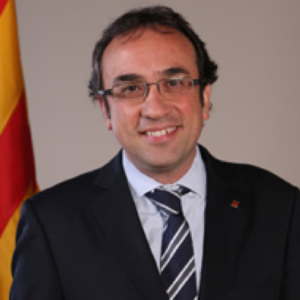 Josep Rull
Minister Of Territory And Sustainability Of Catalonia
Spain
Spain
Rull holds a Law degree from the Autonomous University of Barcelona (UAB) and is a member of the Terrassa Bar Association (ICATER).
From 1993 until 1995 Rull worked in collaboration with the Legal Services department of the Catalan Association of Municipalities (ACM), and between 1995 and 1997 he was responsible for Institutional Relations at the Junta de Residus.
From 1986 until 1998 he was a member of the Joventut Nacionalista de Catalunya (JNC) and an executive member of its General Secretariat from 1994 until 1998.
Josep Rull has been a member of the Democratic Convergence of Catalonia (CDC) since 1989. Within the party, he has been a National Councillor since 1992 and the organisation's National Coordinator since 2014. Previously, between March 2012 and September 2014, Rull served as the CDC Secretary of Organization. From 1994 until 2004, and between 2008 and 2012, he was member of the party's National Executive Committee, as well as its Permanent Secretariat (2008- 2012).
From 2003 until 2014, Rull served as a councillor for the Terrassa City Hall and, since 1997, he has been Member of the Parliament of Catalonia.
During the 8th legislature, Josep Rull Deputy was the CiU parliamentary group spokesman as well as the spokesman for the Territorial Policy Commission. He is currently the third secretary of the Catalan Parliament's Bureau.
Rull is also member of the "Dèria Editors" and "Els Llibres de Neopàtria" editorial boards, vice president of the Torre del Palau Foundation in Terrassa and member of the civil society agency Òmnium Cultural. He was a member of Catalonia's National Student Federation (FNEC) and a member of the UAB's Law Faculty board.