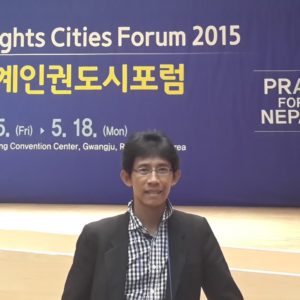 Fahmi Hidayat
Government Of Wonosobo Regency
Indonesia
Fahmi Hidayat, the coordinator of Human Rights City Taskforce of the Government of Wonosobo, was born in 1971. After completing primary to high school education in Wonosobo, Fahmi earned the degree of B.A. from the Gadjah Mada University, Yogyakarta, majoring in Mass Communication, in 1996. Ten years later, he completed his master's degree in public policy program at the National Graduate Institute of Public Studies (GRIPS), Tokyo.
For almost two decades serving for the regional government of Wonosobo, Fahmi has been working with various partners and interesting in numerous key issues. He initiated such an annual event entitled "festival of humanity and sustainability", as well volunteered for various community activities/events that collaborate with the local government interests. Fahmi managed the local government's multistakeholder environment program to raise the awareness and help conserving Dieng, an area that had been degraded for years and later became a serious national concern.
In addition to his contribution for the human rights city initiatives in the region, Fahmi also played an important role in building a partnership among institutions, including the National Commission on Human Rights and the Ministry of Law and Human Rights, that later help established Wonosobo Human Rights City. He was then assigned to attend the 2015 World Human Rights Cities Forum in Gwangju, Korea, as the co-delegate for the Head of Local Assembly of Wonosobo in delivering a presentation about series of human rights city campaign that had been taken. The Forum enthusiastically endorsed the campaign in such a small city in accelerating the implementation of the human rights principles around the world.
Being the coordinator of Human Rights City Taskforce as well head of Planning, Evaluation and R&D Division in the Regional Development Planning Agency, Fahmi is determined to integrate the rights-based approach perspective into local policymaking framework, for a more livable and sustainable Wonosobo.