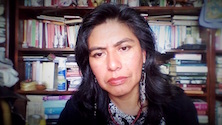 Elizabeth Rivera Garcia
Member
Mujeres Indigenas De Cayambe​
Ecuador
I am part of the women's and the indigenous movement. I have contributed to strengthening community processes with a gender, intergenerational and intercultural focus. My experience has been developed in the socio organizational level, promoting the development of women, children, adolescents, youth and peoples: indigenous and Afro-Ecuadorian, in different areas with the support of community and agency projects, in order to strengthen its direct action through training and research, university teaching and organizational strengthening.
TRAINING AND RESEARCH
• THE SITUATION OF INDIGENOUS WOMEN LEADERS REGARDING AND AFRO-ECUADORIAN DEVELOPMENT.
• INDIGENOUS WOMEN FARMERS AND AFRO-ECUADORIAN EXERCISE THEIR INDIVIDUAL AND COLLECTIVE RIGHTS. BUILDING AGENDAS PEOPLES AND NATIONALITIES (IN REGIONAL AND NATIONAL LEVEL).
• THE SOUTH AMERICAN SMALL PRODUCERS AS ECONOMIC ACTORS, CASE OF THE ORGANIZATION OF WOMEN OMICSE (COTOPAXI – ECUADOR).
• ASSESSING INTERCULTURAL EDUCATION SYSTEM.
• EXPERIENCES OF SAVINGS COMMUNITY
• EDUCATIONAL MODEL AGREEMENT TO THE SOCIAL, CULTURAL AND ECONOMIC REALITY OF THE TERRITORY OF THE KAYAMBI PEOPLE.
UNIVERSITY TEACHING
• MASTERS IN MANAGEMENT DEVELOPMENT IDENTITY FOR GOOD LIVING COMMUNITY WITH INDIGENOUS PEOPLES OF LATIN AMERICA. (INTERNATIONAL)
• LECTURE ON NATIVE TEACHER OF TRAVELING "QUALIFIED TO STRENGTHEN WOMEN LEADERSHIP WITH EMPHASIS ON PUBLIC MANAGEMENT INTERCULTURAL". (INTERNATIONAL)
• TRAINING PLURINATIONALITY, INTERCULTURALITY, SUMAK KAWSAY, COLLECTIVE RIGHTS AND RIGHTS OF INDIGENOUS CHILDREN. (NATIONAL)
• TRAINING SCHOOL OF ECUADOR-INDIGENOUS WOMEN CENTER ANDES IN ECUADOR: WOMEN COTACACHI, COTOPAXI AND CHIMBORAZO BOLIVAR. (REGIONAL)
• RIGHTS AND GENDER IN POPULATION OF INDIGENOUS WOMEN CAYAMBE. (LOCAL)
ORGANIZATIONAL STRENGTHENING
• NEW MILLENNIUM HIGH SCHOOL LEADERS PROGRAM RIGHTS PROMOTION AND PROTECTION SYSTEM CONSTRUCTION AND STANDARD: "CODE OF CHILDREN AND TEENAGERS"
• SYSTEMATIZATION LABOR EXPERIENCE IN INDIGENOUS WOMEN CULTURALLY CORRECT TO BUILD OVERSIGHT COMMITTEES.
• TRAINING ON RIGHTS OF INDIGENOUS WOMEN.
• TRAINING FOR TEENS AND YOUNG PEOPLE 7 PERI-URBAN AREAS GUAYAQUIL: WITH CULTURAL DIVERSITY (AFROECUADOREANS, INDIGENOUS AND NON-INDIGENOUS MIGRANTS).
• DIRECTOR OF THE RESEARCH UNIT FOR THE PROTECTION OF RIGHTS. SOCIAL AREA THAT DIRECTS ATTENTION TO PRIORITY GROUPS AND LIVING IN DOUBLE-INFRINGEMENT. GADIP-MC (local government)