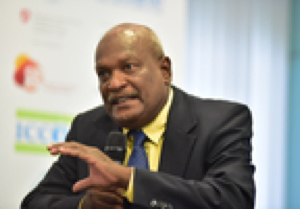 Eddie Ngava
Councilor Honoira
Solomon Islands
Edward Ngava was elected into the Honiara City Council in December 2015.
After graduating with a Diploma in Finance and Administration and a Post Graduate Certificate in Banking, he joined the Central Bank of Solomon Islands in 1978 working himself up to being the Deputy Manager of the International Department overseeing Foreign Exchange Dealings and managing the overall Foreign Reserves of the country.
He resigned in 1989 to be part of the then Solomon Islands College of Higher Education as a College Planner, where he heads the Colleges planning and the coordination of the various schools and divisions within the College. He has also worked with a team on managing, monitoring and evaluating institutional strengthening projects. These projects contributed to the College transformation to a University Status – Solomon Islands National University.

In 1999 he was invited to develop the Football (soccer) administration which covers the development of coaches, referees, player pathways. Soccer being the number one sport in the country eventually got its FFIFA membership and its legal FIFA Membership name became Solomon Islands Football Federation. As the Technical Director, and eventually the CEO Edward attended various international FIFA seminars, conferences, congresses on behalf Solomon Islands Football Federation.
As a councillor, he is now the Deputy Mayor and is also the Chairman of the Honiara City Town and Country Planning Board. He is also the Chairman for the Youth, Women and Sports Standing Committee and the Vice-Chairman of the Education Standing Committee. He is also a member of the Lands & Urban Management Coordination Group set up by the Solomon Islands Government.