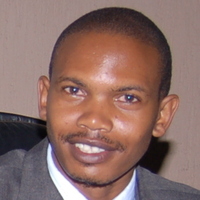 Dr. Elifuraha Isaya Laltaika
Director
Association For Law And Advocacy For Pastoralists (ALAPA)
United Republic of Tanzania
Dr. Elifuraha Laltaika teaches law at Tumaini University Makumira (Arusha, Tanzania), and recently served as Harvard Law School visiting scholar/researcher. A Fulbright alumnus, Dr. Laltaika holds a Doctorate in Law (S.J.D) from the University of Arizona; Master of Laws (LL.M) from the University of Oregon; LL.M from the University of Kwazulu-Natal; and Bachelor of Laws (LL.B) from the University of Dar-Es-salaam.
He was Dean-Faculty of Law-Tumaini University Makumira; member of a technical advisory panel of the World Bank's Forest Carbon Partnership Facility; Consultant for the International Fund for Agricultural Development (IFAD); and senior Fellow-United Nations Office of the High Commissioner for Human Rights in Geneva. His publications include book chapters and law review/journal articles focusing primarily on international environmental and human rights laws and standards in relation to the plight of indigenous communities in Africa. Dr. Laltaika's doctoral research and the Harvard Law School program he attended recently, examined the intersection of extractive industries (oil, gas and minerals), human rights and the environment.
A member of the Bar Association of Tanzania mainland and director of Association for Law and Advocacy for Pastoralists (ALAPA), Dr. Laltaika has facilitated sensitization seminars for Tanzania high court judges, staff of the national human rights institution, members of parliament and local government authorities on international law and indigenous peoples rights, and has guest-lectured on the subject in the US, Denmark, and in the Philippines.