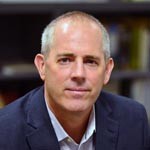 Chris Jochnick
CEO
Landesa
United States of America
Chris Jochnick is a global land rights expert and social entrepreneur with decades of experience in international development. Chris joined Landesa as CEO in August 2015 after leading Oxfam America's work on business and development including shareholder engagement, value chain assessments, and collaborative advocacy initiatives, such as the successful "Behind the Brands" campaign.
Jochnick is the co-founder and former director of two pioneering non-profit organizations: Center for Economic and Social Rights and the Ecuador-based Centros De Derechos Economicos y Sociales.
Jochnick spent seven years working in Latin America, devoting much of that time to addressing threats to indigenous peoples' land rights. Prior to Oxfam, Jochnick worked as a corporate attorney with the Wall Street law firm Paul, Weiss, Rifkind, Wharton and Garrison, on corporate governance and social responsibility issues.
Jochnick is a graduate of Harvard Law School and a former fellow of the MacArthur Foundation and Echoing Green. He teaches a course on business and human rights at Harvard Law School.
He is Chair of the Business and Human Rights Resource Centre and on the Steering Committee of the Sorensen Center for International Peace and Justice. He is a member of the advisory council of the International Land and Forest Tenure Facility, and of the Center for Business and Human Rights at NYU Stern School of Business.
He has published scholarly articles widely and has edited two books.
Jochnick lives in Washington DC with his wife and four children.