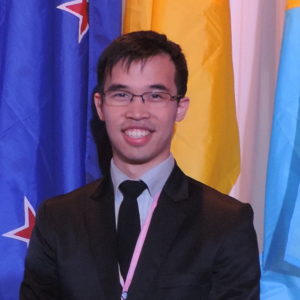 Bruce Tsai
Student
Aotearoa Youth Leadership Institute
New Zealand
Bruce is passionate about all areas of health and social justice, having done work with or represented groups ranging from the NZ Climate and Health Council to the Royal Australian and NZ College of Psychiatrists. He has presented a statement to the WHO on Universal Health Coverage, and co-authored a public health manual that is distributed to 13000 medical students around the world annually.
He is currently involved in research projects on alcohol abuse and pancreatic cancer genomics.
He is currently representing the local youth board on the Low Carbon Action Plan, an initiative that aims to cut Auckland's carbon emissions and make Auckland a more energy-resilient city. He will be attending Habitat III, the bi-decennial UN Conference on Housing and Sustainable Urban Development, where he will facilitate a breakout on the environmental determinants of health at the Youth and Children Assembly.
He does cost-effectiveness analyses for Charity Science Health, a charity aiming to increase the vaccination rates of children in India, and Voicing Pride, an advocacy group that aims to provide a safe space for LGBTQ+ students and give a voice to the unheard.
He dabbles in the social enterprise space with some pro-bono consulting and sales work, and was selected as one of 20 entrepreneurs/innovators around the world to attend the DO School's DOathon in Berlin, learning about diversity in co-creation and working on a business case with Daimler AG.
He has a Certificate in Executive Data Science from the Johns Hopkins University, and is currently taking a course on astrophysics.
Bruce enjoys sports and has previously been selected to the NZ team for Olympic Weightlifting. His other interests include violin, piano, chess and learning about cognitive biases.