Habitat III Thematic Meeting On Intermediate Cities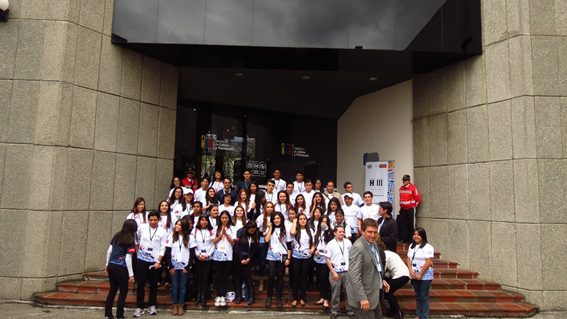 Cuenca – Wednesday, 11 November 2015
Hosted by the Municipality of Cuenca, in Ecuador, the Habitat III Thematic Meeting on Intermediate Cities ended today after three days of fruitful discussions to address the role of intermediate cities in the world. Almost 800 participants actively contributed to the elaboration of the final declaration that represents an important contribution to the Habitat III process and the New Urban Agenda.
Despite presently hosting more than 60 per cent of the global urban population and experiencing the fastest growth, intermediate cities – areas with a population between 100,000 and 500,000 – often lack the financial and technical influence of larger cities to ensure proper planning.
Intermediate cities are key in the upcoming global urban growth in order for cities to bring opportunities for all. Strategic planning, management and regulations, within national urban policies, could help cities address environmental, economic and social issues simultaneously.
The Thematic Meeting in Cuenca gathered national, regional and local governments, partners and stakeholders to debate on challenges and opportunities of the urban growth and renewal of intermediate cities. Topics such as social inclusivity, economic development, public space, mobility, environmental sustainability, preserving cultural heritage and national urban policies were raised during the three days.
At the opening, Dr. Clos, the Habitat III Secretary-General, highlighted the importance of intermediate cities in putting in action the idea of "thinking global and acting local". Relevant remarks on the conference's theme came also from Ms. María de los Ángeles Duarte, Ministry de Urban Development and Housing of Ecuador, and Mr. Denis St. E. Kellman, Ministry of Housing, Land and Rural Development, Barbados, as well as Mr. Marcelo Cabrera, Mayor of Cuenca. At the closing of the event, the Mayor was in charge of presenting the Cuenca Declaration for Habitat III thanking all the participants from their contribution.
During the three days, the vibrant debate took also place in 17 side events organized by a wide range of stakeholders including UN Agencies, Universities and NGOs as well as in a special session addressed to media, the Urban Journalism Academy. A cultural heritage tours of the city and a series of night events also highlighted the cultural richness of the country of Ecuador.