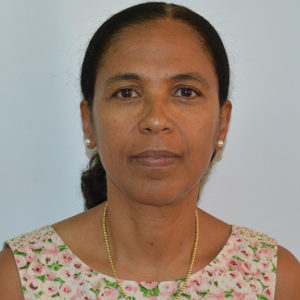 Dr. Eunice Andrade da Silva Spencer Lopes
Minister Of Infrastructure Land Management And Housing
Cabo Verde
Eunice Andrade da Silva Spencer Lopes was born in the island of Santiago, Cabo Verde, in Abril de 1956, the second of 9 siblings. She has a Bachelor's degree in Civil and Industrial Engineering from the Technical and Industrial Institute of Rostov, Russia (1975-1980) and holds a MBA from the Central Connecticut State University, USA (1999-2001) after passing by the University of Havana, Cuba, where she studied Economics (1995).
As a young woman living in the island of Santiago, Madam Silva joined the Organization of Cape Verdean Women (OMCV), in 1981, an association with a very important role in women's emancipation, their fight for more rights, education, child birth control and working skills. She was a member of OMCV until the year 2000.
Madam Minister started working for former State Construction Company (EMEC) in 1981. She then moved to the same Ministry she now presides, where she worked until 2001. While at the Ministry, she was appointed Director of the Studies and Planning Office and afterwards, General Director of Public Works. She was Member of the Public and Private Works Permits Commission.
She then moved to the private sector, being elected Secretary General of the Cabo Verde Contractors Association. She then became a non Executive Board Member of Tecnicil Buildings. After some years, she moved on to being a founding partner and executive manager of SEP, Lda (Coordination Society of technical teams projects execution in the development of various territorial management plans, leading and coordinating many teams who developed the urban development plans for the various counties and islands.
Madam Silva is the author of several articles on urban and social issues in national newspapers between 2004 and 2011.
Eunice Silva was elected congresswomen in the year 2011. As a congresswoman, Madam Silva presided the Parliamentary Commission of Inquiry (CPI) to investigate the causes of the accident of the Vicente ship which killed 15 people. She was also Vice President of APPEL - Alliance of Parliamentarians and Local Elected to the Country Environmental Protection in coastal West Africa as well as Vice-President of the Economic, Environment and Spatial Planning Specialized Commission. While in office, she organized a national election of the seven country wonders, a program that led to a much wider knowledge and protection of the country's landscapes. It also resulted in the production of the Cape Verde Wonders catalog.Her later position as a
congresswoman was as the president of the RPALCDP - Parliamentary Network for Environment, Desertification Combat and Poverty.
As soon as she took her chair as Minister, Madam Silva took to herself to try and solve the situation of the displaced of Chã das Caldeiras, people who saw all their belongings and land disappear under the lava of 2014's eruption. These families are being given support not only with housing and money, but also with new income-generating activities.
Her main interests are the conservation and enhancement of territorial natural heritage as well as working to create the conditions for people to live well, to have a pleasant habitat and have access to assets that contribute to their daily comfort.
Madam Minister is married and has two sons who have now given her three grandchildren.